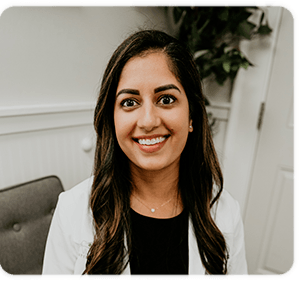 Dr. Grewal was born and raised in a small suburb of Northern Virginia. She earned a Bachelor of Science from George Mason University in Fairfax, Virginia, and her dental degree from Temple University School of Dentistry in Philadelphia, Pennsylvania.
Dr. Grewal moved to Michigan after meeting and marrying her Michigander husband, Raj. When not at work, Dr. Grewal and her husband stay busy entertaining (and being entertained by) their two little girls. Watching them grow and watching their personalities blossom is a highlight of their lives. The family loves being outdoors, exploring new playgrounds and traveling, but they also love being cozy at home.
Dr. Grewal truly loves spending time with her patients, getting to know their goals for their dental care and helping them achieve these goals in a collaborative effort. Dr. Grewal is passionate about and committed to organized dentistry. She is an active member of the American Dental Association (ADA), Oakland County Dental Society (OCDS) and Michigan Dental Association (MDA). She is a member of the OCDS board of directors (president-elect) and the MDA Foundation board of directors. She also enjoys being the editor of the OCDS journal called the Dental Review.
Dr. Grewal's message to you is: Do not forget that your mouth is connected to your body and that it is a critical part of your overall health. Please come in and let us, the team at Paint Creek Family Dentistry, be a part of your wellness team